Al Mamary is considered to be a factory for Aluminum & skylight. The company's head office is in UAE, and it has been successfully growing for over 2 decades. The factory started up in 1996 and continues to spread many projects in the Middle East including Qatar, Saudi Arabia, Kuwait, Jordan, Oman and many more.
Al Mamary projects consist of many skylight products, with services starting from design, fabrication, and installation for any industrial, residential, or commercial project consisting of roof light.
Al Mamary also provides solutions for all products related to polycarbonate sheets, such as partitions, wall cladding, canopies and roof covering.
Whether we witness marvelous events or tourist places, we are mostly taken by the beauty of the architecture, especially the ones that bring back a vintage touch of heritage places. Al Mamary factory provides this structural skylight vision in an amazing way.
The skylights that are designed by Al Mamary factory can reduce heat transmission and improve thermal efficiency to let your building work perfectly under any climate, on hot summer days the skylights Low-E coat in glass panels, will improve air condition efficiency and comply all green regulations.
The factory also distinguished a glass that protects from UV rays by 99%, and these designs are not built for massive buildings only, individuals can request their roof for their house or personal office.
One can choose a unique and a special design for different rooms and buildings. And here are the shapes that Al Mamary factory can establish perfectly:
Curved Domes
Segmented Dome
Curved Vaults
Segmented Vaults
Pyramid Skylights
Conical
Pitched Roofs
Slope Skylights
Special Shapes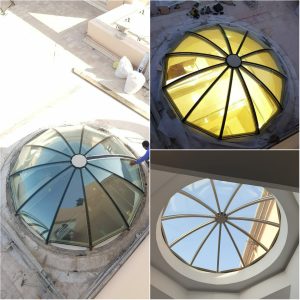 As mentioned above the factory has accomplished many projects in different countries,
Al Hazm Mall in Qatar is one of these projects and there are more; Arab Mining Company in Jordan, Al Araimi Boulevard Mall and Muscat Grand Mall in Oman and Bawadi Mall in UAE.