The skylight is an excellent solution to bring natural light to the home or building. It will become more beautiful when combined with thermoforming polycarbonate sheets. Designers and architects can make many forms of roofs by thermoforming polycarbonate panels. Like domes, pyramids, ventilation slots, and barrel skylights.
What are Thermoforming Skylights?
Thermoforming skylights are related building materials commonly used in construction of roofs in commercial, residentials and industrial buildings.
Thermoforming Skylights Definition:
Thermoforming Skylight is made of solid UV polycarbonate sheets, with a process of creating plastic objects by using heat and pressure, this process involve with heating a thermoplastic sheet to its softening point, stretching it over a mold, then apply a pressure to form the desired shape. By using this process, we can shape it into domed, curved, or pyramidal shapes, then used as skylights in buildings by applying a special extruded aluminium profiles which preventing watertightness and airtightness.
Thermoforming Polycarbonate Shapes & Designs
Square Domes: it's a classic skylight shape features with curved, semi-spherical design. Thermoforming can produce single sky domes or Multi Skylight Domes that can be customized to fit any opening size.
Pyramid: A pyramid-shaped skylight adds a modern, geometric touch to a building and can be thermoformed Single Pyramid or multi–Pyramid Units to the desired size and specifications.
Barrel: A barrel-shaped skylight is curved like a cylinder, with a gentle slope.
Ventilation: Thermoformed sky domes can also provide ventilation to space, with options for manual or automatic opening mechanisms.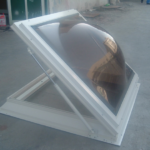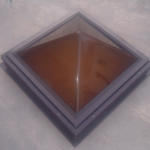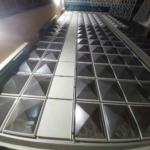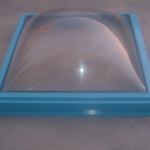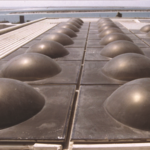 Why do we use Thermoformed Polycarbonate?
Polycarbonate sheets possess excellent transparency, allowing natural light to penetrate while maintaining superior insulation properties. These qualities make polycarbonate a prime candidate for skylight installation since it contributes to energy efficiency by reducing reliance on artificial lighting while improving the building's thermal performance.
Moreover, polycarbonate sheets are highly adaptable and can be conveniently molded into different shapes and designs using thermoforming techniques. This flexibility enables the production of skylights that match the specific measurements and design requisites of a building, providing an optimal and bespoke solution.
Benefits of Thermoforming Skylights
Polycarbonate sheets offer various benefits for thermoforming skylights, including:
Durability and safety: Polycarbonate sheets are highly durable and shatter-resistant, making them an ideal material for skylights.
Transparency: They are highly transparent, allowing natural light to pass through while maintaining superior insulation properties. This can contribute to energy efficiency by reducing reliance on artificial lighting.
UV resistance: They are resistant to UV radiation, which means they will not yellow or degrade over time from exposure to sunlight.
Lightweight: Polycarbonate sheets are lightweight compared to glass, making them easier to install and transport.
Customization: Can be easily thermoformed into a variety of shapes and designs such as domes, pyramids, ventilation slots, and barrel skylights.
When designing a roof with polycarbonate sheets or domes. It's important to consider factors such as the size and placement of the domes. As well as any additional insulation or shading is required. Working with a professional roofing contractor who has experience in installing polycarbonate domes can help ensure that the design is both functional and aesthetically pleasing.
If you're looking for high-quality polycarbonate sheets or domes that are built to last and enhance the beauty of any space. Al Mamary Aluminum & Skylight Factory is a company that specializes in providing a wide range of skylights. Including Retractable Skylights, Structural Skylights, and Thermoforming Skylights. Based in the UAE, they operate throughout the Middle East region. Including Oman, Qatar, KSA, Kuwait, Jordan, Libya, Tanzania, and Africa. The skylights are known for their durability and aesthetic appeal, making them an excellent choice for any commercial or residential space such as Arab Mining Company. To learn more about our high-quality polycarbonate sheet domes contact us now.